Featured
Share online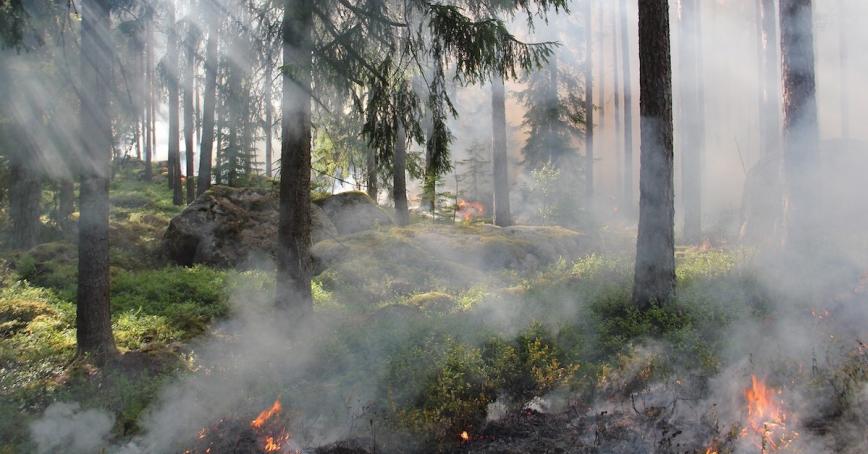 -
Timezone: PDT
Webinar
Online
Climate change is a reality that is amplifying the frequency and devastating impacts of natural-hazard related disasters. Here in Canada, we experienced events like this summer's deadly heat dome, drought, and a frightening wildfire season that directly impacted thousands of people, and indirectly impacted hundreds of thousands of people as a result of the pervasive smoke these fires produced.
Over four million Canadians live at the front line of wildfire risk, with First Nations communities experiencing nearly 3 times the risk of other communities.
The wildfire in the BC town of Lytton, this summer, is an example of the escalating risk wildfires pose, resulting in the death of two people and the entire town going up in flames. Communities like Lytton are faced with the monumental task of rebuilding, an often decades-long recovery process that includes immediate concerns like supporting residents to cope with the trauma and their losses, creating temporary housing, rebuilding infrastructure, and beginning the restoration of ecosystems and economies. It's a complicated, often frustrating process, but disaster recovery also generates an opportunity to 'build back better.' In the context of climate change, this includes building in ways that address climate change vulnerabilities and enhance the resilience of that community so that it can better weather future risks and extreme events.
On October 13th, join us in this webinar as we explore climate-informed disaster recovery, and a way forward that considers climate risks and vulnerabilities in recovery decision-making and planning. Rather than building back as was, how can disaster recovery support the changes needed to slow climate change, contribute to decolonization and reconciliation, and create a new vision for a community that prioritizes wellbeing, equity and resilience?  The recovery and rebuilding of Lytton may provide a living example of how a community can draw on its shared values and strengths, its creativity, sense of belonging, and vision to build a climate resilient, climate adaptive, sustainable and equitable future. In so doing, it could suggest a pathway forward for other communities. 
This webinar will be hosted by Dr. Robin Cox, Program Head of our Graduate Diploma and MA Climate Action Leadership. These graduate programs are your invitation to join the international movement working to change the climate story from a tale of disaster to one of transformation — and from activism to organizational and societal leadership. The course content and resources are open to view on the MACAL website.
Can't make it? Register to receive a link to the recording.
MEET OUR PANELISTS
Tine Rossing is an accomplished professional with more than 25 years of technical expertise working on the intersection of biodiversity conservation, climate change and social justice for large international organizations, governments and NGOs spanning 32 countries. Tine has spearheaded many aspects of addressing the climate crisis, including developing practical, user-friendly guidance documents and facilitated numerous training and stakeholder engagement processes with a wide range of stakeholders. A strong emphasis has been on working with local communities to co-create solutions for how to better prepare for the social-ecological challenges that climate change presents. She has published and presented widely on the topics of resilience, climate change adaptation, and nature-based solutions.
Chief Patrick Michell of the Kanaka Bar Indian Band has lived in BC's Fraser Canyon all his life and has worked with his community of Kanaka Bar to establish foundational stability in air, water, food, and shelter with supporting and resilient systems like energy, communications and transportation; for the environment and economy of today and more importantly - tomorrow. Chief Patrick was recently honored with a Clean50 Lifetime Achievement Award and Kanaka's 2021 Community Resilience Plan was also recognized as Clean50 2022 Top project. 
Site specific climate change impacts have been observed for some time at Kanaka and in response – the community completely changed its planning, investments, and implementation process to ensure stability and resilience in core physiological areas to ensure that Kanaka's future generations will have the same as – if not more, opportunity than we do today. On June 30, 2021, a fire completely devastated over 90% of the Village of Lytton, directly and indirectly impacted surroundings Indian reserve lands. TNRD residents, Chief Patrick, and his community are engaged and are assisting the Lytton people in short, medium and long term recovery.
Dan Sandink is the Director of Research at the Institute for Catastrophic Loss Reduction (ICLR). Dan Sandink is Director of Research at the Institute for Catastrophic Loss Reduction. Since joining ICLR, Dan has authored or co-authored more than 50 technical reports and articles on topics related to protecting Canadians and their property from the impacts of extreme rainfall/urban flooding, high wind, wildland-urban interface fire, and hail. Dan's writing has also focused on public disaster risk perceptions, public adoption of household disaster risk reduction practices, the role of insurance in managing disasters, climate change adaptation and vulnerability assessment, building materials and products designed to mitigate disaster risk at the household level, among many other topics.
Our moderator for the discussion, Dr. Robin Cox, is the program head for the graduate programs in Climate Action Leadership (Graduate Diploma; Master of Arts) and a professor in the Disaster and Emergency Management graduate programs of the School of Humanitarian Studies. Cox is also the director of the Resilience by Design (RbD) Research Innovation lab, a transdisciplinary research and educational outreach center that focus on building multigenerational climate action leadership and competencies. The goal of this center is to inform, inspire, and support the well-being of people and the planet in a changing climate, through research, education, and policy advising.
Register