Military training and expanding education
Topics
Share online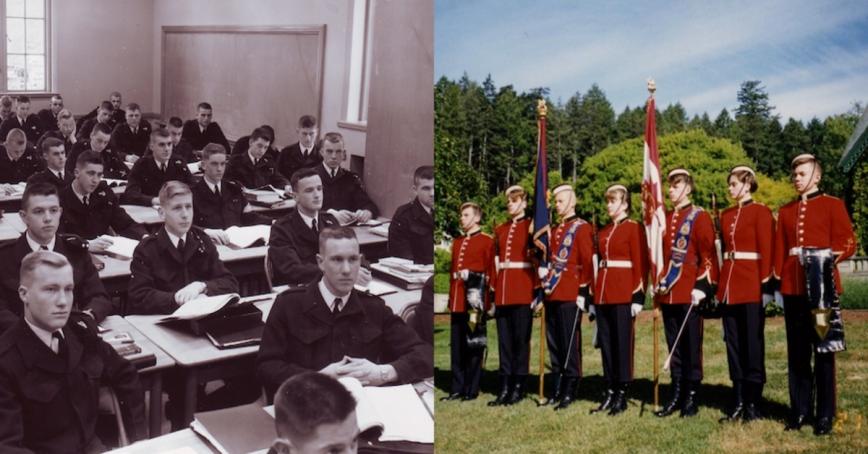 An urgently needed wartime role
Named for an anchorage beyond the Esquimalt Lagoon, Royal Roads comes from the naval term "roads" or "roadstead," a safe area for ships to wait to enter a port.
The Department of National Defence purchased Hatley Park for $75,000 in 1940. With the Second World War raging in Europe, the former elite estate took on an urgently needed new public role as HMCS Royal Roads.
The grounds and Castle were transformed into a junior officer training site. Some 600 sub-lieutenants were trained from 1940 to 1942. Members of the Royal Canadian Naval Volunteer who completed a 90-day fast-tracked naval program were assigned to escort vessels protecting convoy ships from submarine attack as they made dangerous crossings of the North Atlantic.
Volunteers were of varied ages and backgrounds. They came from all over Canada, arriving for what's been described as "the shock of their lives." There was nothing easy in making the switch from civilian to naval force life, although the trainees did have the unforgettable experience of living and studying in Hatley Castle.
The ship on land
The name of the new naval training facility said it all: HMCS (Her Majesty's Canadian Ship) Royal Roads. The military establishment was run like a ship on land. Cadets were trained in signals, torpedo, gunnery, navigation, seamanship and ASDIC, an early form of sonar.
Naval routines, rules and terminology were part of daily life, with campus locations like the Quarterdeck assembly hall, gunroom and mess hall dining room. Dorm rooms were called cabins.
As onboard a naval ship, the impressive mast near the entrance to Hatley Castle was central to daily routine. The military "colours" ceremony took place each morning and again at sunset. A bosun's whistle, and later a bugle, was used to call cadets to attention for the raising and lowering of flags.
Expansion
With wartime expansion, HMCS Royal Roads became the Royal Canadian Naval College in October 1942.
Enrolment was on the rise. It was time for the cadets to move out of Hatley Castle. Grant Block, named for the first commandant of the naval college Captain J.M. Grant, was built in 1943 to accommodate the growing number of cadets and to house science labs, a chapel, mess hall and two gunrooms.
In 1947, the Royal Canadian Air Force teamed with the naval college to create RCN-RCAF Royal Roads. A year later, the army joined, creating Canadian Services College Royal Roads.
The college had a final name change in 1967 to Royal Roads Military College, and later expanded to offer four-year degree programs in areas including oceanography, psychology and military and strategic studies. The first degrees were awarded in May 1977. 
It took decades for women to be welcomed to join RRMC as cadets. They enrolled for the first time in 1984.
The four pillars
Cadets were expected to do more than earn top marks. The college had four pillars: military leadership, academics, physical fitness and bilingualism. Cadets had to pass each component to pass the year, or later, to be granted a degree.  
Demanding physical training and making the adjustment to the disciplined world of a military college wasn't easy for first-year cadets.
Displays in the Hatley Castle museum military section tell the story of the college in the words of the cadets, recollections of intense physical training, pride at military parades and long hours in the classroom.
Kazimir Oreziak (Class of 1976) recalled "a lot of running, a lot of being yelled at by senior cadets … a matter of breaking, moulding and then reforming us into something they wanted to see. But it was all good fun."
Challenges ranged from 2 a.m. boot-polishing sessions, to the running of the grueling recruit obstacle course set by the senior class who'd survived their punishing turn the year before.
Skylarks and peacocks
It's no wonder the cadets let off steam occasionally with pranks, dubbed "skylarks." Some of them are RRMC legends.
Royal Roads University Archives Manager Jenny Seeman shares a few of her favourites.
"They took a whaler rowing boat and rigged it from turret of the castle like a flag. They dismantled a jeep and laid out all the parts on the parade square," says Seeman.
Trousers were (unsuccessfully) shot out of a brass cannon that cadets were often made to polish for infractions, she says. Fully made beds would show up in very unlikely places, like hanging out a second-story window. And then there's the tale of Murray Thom's car.
The Class of 1956 graduate, later a faculty member, discovered his sporty red ride had inexplicably ended up in the lobby of the Nixon Block. Nobody he asked knew anything about how it got there.
And today's Hatley Park social media superstars can trace their first fame to the mid-sixties, when two pairs of the peacocks were a gift to the military college Commandant in 1963. Their distinctive cries — a piercing scream-squawk — are hard to miss. It certainly didn't endear them to Royal Roads cadets who were trying to study for final exams.
Nature took its course and today there are about a dozen female peahens and flashy male birds disturbing exams and waiting for their smartphone moment with campus visitors.
"My heart is there"
The 1995 closure of Royal Roads was a difficult transition for cadets, staff and the surrounding community, where the school had become part of local life.
When RRMC closed in 1995, College Colours and Queen's Colours were moved to Christ Church Cathedral in Victoria during an emotional ceremony packed with attendees. As were the navy, army and air force ensigns that formerly flew from the 30-metre yellow cedar mast.
In 2007, the mast itself was restored and raised in a newly created memorial plaza outside the former vice-commandant's house in 2008.
RRMC's legacy continues through ex-cadets, the proudly self-named "roadants," whose campus heritage initiatives ensure RRMC's story is ongoing.
"My heart is there," said Kathryn Hodgson (Class of 1995). "That is the only place in the world where I have ever gone where I just feel calm."
The road forward
Royal Roads University's 55-year military legacy of camaraderie, leadership, training and education carries into our present-day university in heritage places on campus, valued traditions and in an alumni community made stronger by 4,000 ex-cadets whose decades of service to Canada ensure a brighter future for our nation
-
As we celebrate 25 years as a public university, we're also celebrating our past in order to transform the future. Read more about life in the of our weekly series exploring the past, present and future of Royal Roads: royalroads.ca/25.