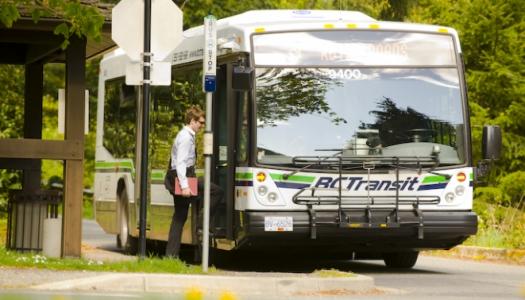 If you're a full-time, undergraduate student studying on campus, the U-Pass gives you unlimited access to Victoria's transit system. The service includes buses and the accessible handyDART service.
This program is provided through a partnership between Royal Roads University, the Royal Roads University Student Association and BC Transit.
How it works
If you're eligible, you'll be signed up automatically. You'll pay a mandatory annual fee based on the number of months of classes you have on campus in your program. The total cost is listed in your program's payment schedule.
Your U-Pass is active for every month that you're enrolled in regularly scheduled on-campus classes. For example, if your classes end on August 4, your pass will remain valid until August 31. The expiry date for your U-Pass is printed on your student ID card.
If you begin an on-campus undergraduate program part way through, we'll consider charging a pro-rated amount for the pass for the remaining months of the program.
Email Student Services if you have questions about the U-Pass program.
Cost savings
You'll be charged $21.25 for each month that your U-Pass is valid. This reduced fee offers significant cost savings for unlimited transit use.
Without the U-Pass, a single use cash fare is $2.50 and a monthly university student pass is $77.00. Even if you only make five round-trips by bus each month, your U-Pass will have paid for itself.
Exemptions
The reduced cost of the U-Pass is possible because of the bulk purchasing power of the Royal Roads University Student Association.
For this reason, there are only a few situations where you can get an exemption:
You can't use conventional public transit or handyDART because of a disability you have verified with Royal Roads.
You can show us that you have a BC Bus Pass issued by the Government of BC.
You can show us that you are a University of Victoria or Camosun College student and already have a U-Pass.
Exemptions granted are valid for up to one academic year (i.e. September 1 to August 31).
Benefits
U-Pass offers affordable, safe and reliable transportation. Passes are prepaid and convenient.
You can study or relax on the way to school. You can use your bus pass to run errands and travel on evenings and weekends. Bus service runs late on weekends, and it's a safe option if you've had something to drink.
U-Pass saves you money on travel costs, including gas, insurance, maintenance and parking. You can even claim a tax credit for pass on your income tax return.
Transit provides rainy day and long trip transportation for cyclists. Buses are equipped with racks that can carry two bikes.
Transit system
Buses run 365 days a year in Greater Victoria.
The following buses stop at Royal Roads:
The #39 and #51 run on weekdays to and from the University of Victoria. The #39 stops outside of the Grant Building, and the #51 stops at the entrance to campus on Sooke Road.
The #52 covers Langford and Colwood and stops at the bus shelter across from Parking Lot 4.
The #50 runs every 10 to 15 minutes daily from downtown Victoria to Langford. It stops at the Western Exchange, a 15-minute walk from campus.
Find information about the Victoria Regional Transit System, including schedules and maps.
You can also use Google Maps to get transit information for specific times of the day. Using the "Directions" feature, you can enter your starting point and destination, select the transit icon and get transit options.
Pass information
If you're eligible for the pass, your student ID card will be encoded with your information and will function as your U-Pass. You can used it immediately on transit.
Your U-Pass is not transferable to another person. Transit drivers may confiscate passes that appear to be misused.
Frequently asked questions
Sustainability in action
The U-Pass is part of our sustainability initiatives on campus.
Carpooling, biking and U-Pass initiatives are aimed to reduce the percentage of single occupancy vehicles, which currently account for 90 per cent of commuters to campus.
Public transit helps to lower greenhouse gas emissions, and reduces the need for more parking as Royal Roads University grows. Transit use on U-Pass campuses typically grows by more than 50 per cent.
Find out about transit and other campus initiatives in our sustainability plan.
Program history
In April 2011, the Royal Roads University Student Association held a referendum on the U-Pass. It passed with 83 per cent of eligible students voting in favour of the new program. The program has been running on campus since August 2011.
The U-Pass program began in Victoria in 1999 at the University of Victoria and Camosun College and resulted in a 100 per cent increase in transit ridership among students.
There are more than 100 similar programs at universities and colleges across North America.