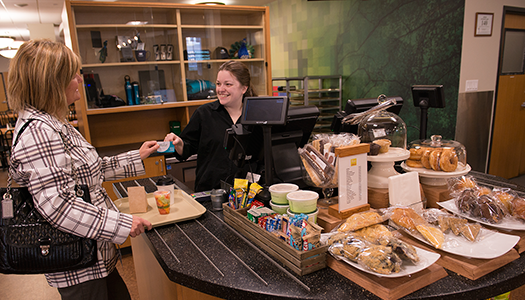 Nourish yourself
Fuel up with healthy food, coffee and other drinks at the Habitat Café.
The café offers a convenient Grab'n'Go menu for students, faculty, staff and visitors. The menu includes a variety of breakfast sandwiches, salads, deli sandwiches, sushi and snacks.
Location and hours
Habitat Café is closed until further notice.
Find the Habitat Café on the second floor of the Grant building. See the campus map.
Payment
Pay by debit or credit card. These are the only forms of payment we're accepting at this time. 
Use a Value Card and save
You can buy a Value Card from a Habitat cashier to use for convenient payment. Load your card with more than $100, and you'll receive a bonus.
| Purchase | Bonus | |
| --- | --- | --- |
| $100 to $199 | $5 | |
| $200 to $499 | $20 | |
| Over $500 | $75 | |
There's no minimum amount for Value Cards. If the initial amount that you load on your card is under $20, though, you'll be charged a $2 one-time fee.
Café and catering
Truffles Group has been operating Habitat Café and catering private events at Royal Roads University for over a decade.
Our food
We're committed to using locally-grown produce wherever possible. Our chefs understand that creativity, flavour and presentation are essential for feeding the Royal Roads community and creating memorable events. We only use the finest ingredients.
Recycling and reusing
We've taken many steps to reduce or eliminate waste as part of our operations.