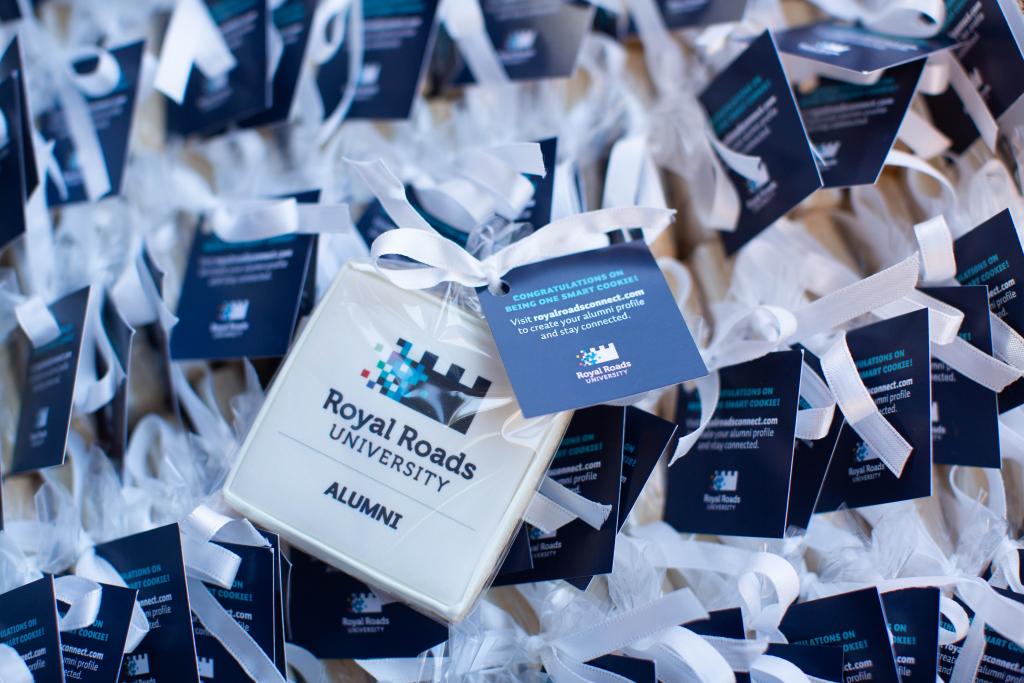 We can't wait to see you!
A celebration for graduates who had their virtual convocation between June 2020 and November 2021. This is an opportunity to share your achievement in person with classmates, family, friends and Royal Roads faculty and staff.
Dates
Royal Roads plans to host our New Alumni Celebration on-campus June 13 and 14 in the beautiful new Dogwood Auditorium, pending Provincial Health Orders.
How to participate
Registration to attend the New Alumni Celebration has now closed. Forgot to sign up? email us.
Accessibility
Please contact us with any requirements.
Regalia
Regalia will be provided on-site for your ceremony.
Graduate Check-in
Graduate registration and check in will open 1 hour prior to your ceremony. Guest tickets can be picked up at the registration desk when you arrive to check-in.
The registration desk will be located outside the Dogwood Auditorium near the Sherman Jen Building; please follow signs and volunteers. A convocation campus map will be provided shortly. 
Guest tickets
Each graduate had the opportunity to request up to 2 guest tickets with their application form. Graduate can pick up their tickets at the time of check-in. The check-in desk will open one hour prior to the ceremony start time. Please note family members will not be able to pick up guest tickets on the graduate's behalf.
Additional tickets: if available, can be requested by the graduate on a first-come, first-served basis, upon check-in.
Guest tickets will be required for all guests, regardless of age, including infants.
Overflow seating will be available in the Sherman Jen Building showing a live broadcast of the ceremony for those unable to secure a ticket in the Dogwood Auditorium. In addition, all ceremonies will be livestreamed for those supporters who are unable to attend in person. 
Accommodation
On-campus accommodation is not available at this time.
Campus map
Check back soon for more details. 
Transportation and parking
Parking will be available in P3 and P4, refer to our campus map (coming soon), with limited shuttle service to the Dogwood Auditorium.
Please note that parking areas are an approximate 10-minute walk to the Auditorium and the pathway is not flat. You will experience an incline/decline to the Auditorium from the parking lots. Please bring appropriate footwear should you wish to walk around campus.
If you require accessible parking, please email us
Degree Frames and RRU merchandise
Visit our Campus Store in the LIC and online.
Looking for information about Spring 2022 Convocation?
Find all the details on our Spring 2022 Convocation page.