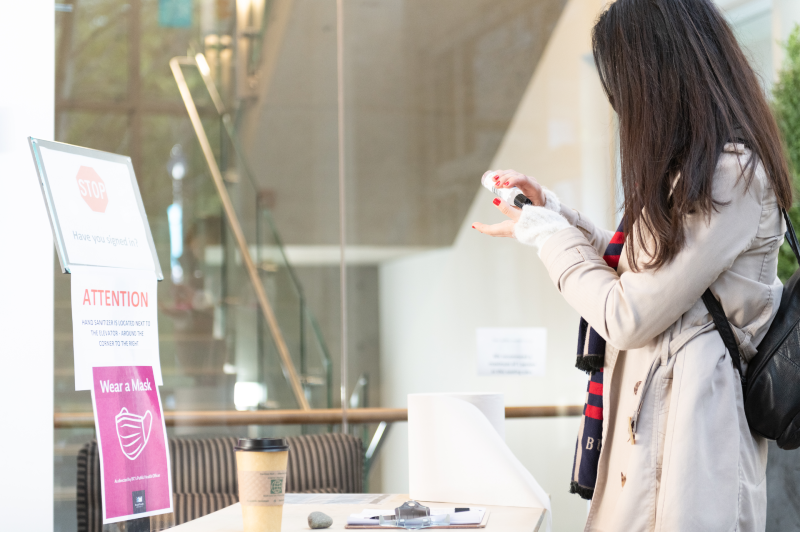 Help us protect the Royal Roads University community by following public health and WorkSafeBC guidance.
If you're coming to campus for work, study or leisure here's what you need to do.
Complete mandatory daily screening
Everyone — employees, students, contractors and visitors — must do a daily self-assessment for COVID-19 symptoms before coming to campus or any Royal Roads workplace. You can use the BC COVID-19 Self-Assessment tool.
Do not visit campus if any of the following apply:

You have any COVID-19 symptoms.
You live in the same household as a person who has a confirmed or presumptive case of COVID-19 case.
You have returned from travel outside of Canada within the last 14 days.

If you're unsure about your symptoms, contact your health care provider or call 8-1-1.
Practice good personal hygiene
Wash your hands regularly with soap and water or an alcohol-based hand sanitizer to protect yourself and others.
Avoid touching your face, especially eyes, nose or mouth.
Cough or sneeze into your elbow or sleeve; immediately throw away tissues and wash your hands.
Stay home if you're sick.
Avoid contact with people who are sick.
Practice physical distancing
Avoid handshakes.
Stay at least two metres (six feet) from others. That's one peacock with full tail feathers!
Respect guidelines and barriers, such as directional arrows or plexiglass.
Wear a face mask. They are mandatory in all shared indoor public spaces, such as hallways, elevators and areas where physical distancing is not possible.
Respect building protocols
Follow new room occupancy limits.
Sign in and sign out of buildings.